Course Offerings in Sustainability
Sustainability Courses Highlighted for Spring 2017
Check back each semester for this updated list of exciting new undergraduate and graduate courses related to sustainability being taught by faculty from diverse departments across campus.
Sustainability Focused Courses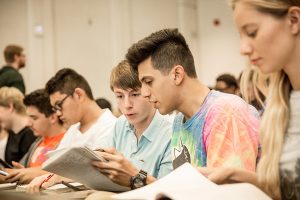 Sustainability focused courses are those in which the primary and explicit focus is sustainability and/or on understanding or solving one or more major sustainability challenge (e.g. the course contributes toward achieving principles outlined in the Earth Charter: http://earthcharter.org/discover/the-earth-charter/ ). Course listings as of May 2016.
Sustainability Related Courses
Sustainability related courses are those that include sustainability but primarily focused on a topic other than sustainability, yet incorporates a unit or module on sustainability or a sustainability challenge, includes one or more sustainability-focused activity, or integrates sustainability issues throughout the course. Course listings as of May 2016.