2018 Spring Collection Day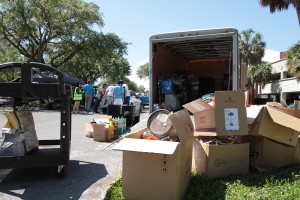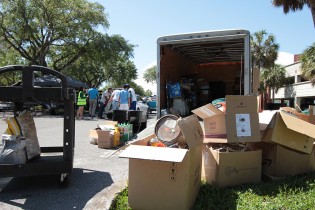 Sustainable UF's Spring Collection Day Event is your one stop drop! Students, faculty and staff are invited to stop by the NW corner of the O'Connell Center parking lot (near the entrance at 2nd Avenue) on Wednesday, April 25th any time between 7:30 am – 1:00 pm to conveniently drop off any unwanted items, including:
HOUSEHOLD ITEMS – which will be donated

to Habitat for Humanity.



TOILETRIES & GENTLY USED CLOTHING – which will be donated

to UF HealthStreet

NON-PERISHABLE FOOD ITEMS – which will be donated to the UF Field & Fork Pantry.
SCHOOL SUPPLIES – which will benefit the Alachua County Tools For Schools program.
PERSONAL DAMAGED GOODS or HAZARDOUS & ELECTRONIC WASTE* – which will be taken to the

Alachua County Hazardous Waste Collection Center for proper recycling or disposal. Examples of hazardous/electronic waste include things such as oil, automotive fluids, pesticides, paint, TVs, computers and peripherals, car batteries, household chemicals, fluorescent light bulbs, etc.

UNIVERSITY ASSETS & IT EQUIPMENT – which will be processed by Asset Management. Approved survey paperwork is still required for any item with a decal, so please bring it with you! Anything without a decal (furniture and peripherals) may be dropped off without a form.
*Personal household and residence hall waste only. No University Laboratory or shop waste. Transport all materials in a secure and safe container. If there is a possibility of spilling, please take it directly to the Alachua County Hazardous Waste Collection Center. If you have any questions regarding Household Hazardous Waste, please call (352)-334-0440.
All University chemical and hazardous waste is to be handled by UF Environmental Health and Safety. Contact EH&S at 352-392-8400 for assistance.