Sustainability Showcase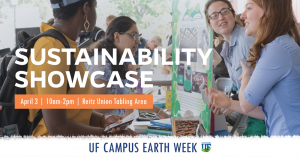 This year's Campus Earth Week will feature the Sustainability Showcase on Wednesday, April 3 from 10 am – 2 pm at the Reitz Union Breezeway tabling area. This event will feature a tabling expo, interactive displays, games, hands-on activities, and more! This event is free and open to all students, faculty and staff. Visit our Facebook event for additional information and updates.
Check back soon to see what groups will be at the Showcase!
Is your group or organization interested in participating in our Showcase? Please register here!
Sustainable Art Competition
Sustainable UF hosting a sustainable art competition to be displayed during the Sustainability Showcase on April 3rd, from 10am to 2pm. Interested in participating? Visit our webpage here for more info! Submissions due by Wednesday, March 27th at 11:59pm.