Intro to Bicycle Maintenance – Nov. 7 & 14!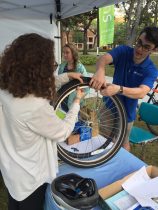 Intro to Commuter Bicycle Maintenance
In partnership with The Freewheel Project, Gainesville's non-profit bicycle co-op, Intro to Commuter Bicycle Maintenance will introduce bicycle basics from proper bike fitting to on-road maintenance skills to give riders confidence to hit the road and commute to campus. Classes for the inaugural session will be held at the Freewheel Project on Wednesday, November 7th & 14th from 6:00 – 9:00 pm. This course is sponsored by the UF Office of Sustainability and offered to UF students, faculty and staff at no cost. It is valued at $50 and participants will receive a free bicycle helmet and flat repair kit at the end of the course.
Participants will learn the following skills:
How to change a flat tire
Brake adjustment
Gear adjustment
How to customize your bike fit
How to properly fit a helmet
How to perform a bicycle safety check
Bicycle shifting strategy & technique
Sign-Up
UF students, faculty and staff may sign-up using the form located here. Classes are filled on a first-come, first-served basis. Participants are required to commit to attending both class sessions in order to be admitted: November 7 & 14, 6-9 PM at the Freewheel Project (618 S Main St, Suite A, GNV FL 32601.