TailGator Recycling Program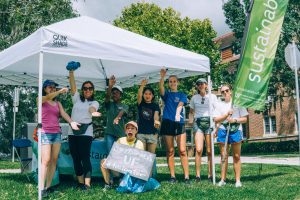 The TailGator Recycling Squad is a volunteer-based recycling program coordinated by the UF Office of Sustainability, in partnership with Pepsi and Facilities Services Solid Waste Management, that aims to educate and encourage tailgating football fans to recycle and do so properly.
Volunteering with the TailGator Squad:

Volunteers work in teams of 2 to 4 people, for a 2-hour shift
For shifts throughout the day, volunteers are given blue recycling bags and assigned to high-traffic tailgating areas on campus where they distribute the bags to fans, along with information on what is and is not recyclable at UF
Free food and refreshments provided for all volunteers
Volunteers will receive a free t-shirt or bandanna after completing their second gameday participation!
How to Volunteer:
Please fill out the form below to sign up to volunteer on Saturday, November 9. This game will have one shift, from 9:00 – 11:00 am. Game kickoff is at 12:00 pm. If you have any questions, please e-mail us!