TailGator Recycling Program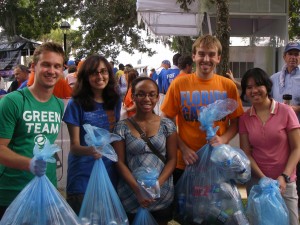 The TailGator Green Team is a volunteer-based recycling program coordinated by the UF Office of Sustainability, in partnership with Pepsi and Physical Plant Solid Waste Management, that aims to educate and encourage tailgating football fans to recycle and do so properly.
Our Impact
Since the program began in 2006, more than 350,000 pounds of recyclable aluminum, glass, and plastic have been diverted from the landfill.
Volunteering with the Green Team:
Volunteers work in teams of 2 to 4 people, for a 2-hour shift.
For shifts throughout the day, volunteers are given blue recycling bags and assigned to high-traffic tailgating areas on campus where they distribute the bags to fans, along with information on what is and is not recyclable.
Volunteers will receive snacks and refreshments.
How to Volunteer
Please fill out the form below to sign up to volunteer on Saturday, November 25 prior to the game vs. FSU. If you have any questions, please e-mail us!