Sustainability Hut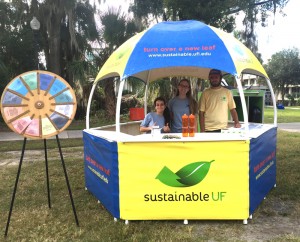 Interested in meeting new people and raising awareness about sustainability on campus? The Sustainability Hut provides interactive activities for the campus community to learn more about sustainability topics and how to make a difference in their own lives and at UF.
How to Volunteer
The Office of Sustainability is always in need of engaging and interactive volunteers to help make this outreach program a success! The Hut travels to different locations on campus from 11:30 – 3:00 on Wednesdays during the spring 2017 semester.
Visit this page to sign up to volunteer or e-mail the Sustainability Hut Team: sustainabilityhut@gmail.com!
Psst… we're on Facebook now too! Like our page to get updates, special announcements and more!