Gator CSA Program Returns for Fall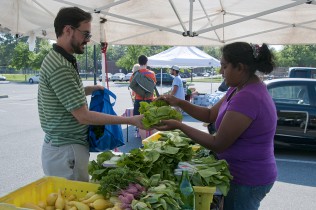 By Raegan Daley
Intern & Contributing Writer

Sustainable food practices are in full bloom this fall, as the Gator Community Supported Agriculture (CSA) program prepares to return for its sixth season.
The Office of Sustainability launched the Gator CSA program in fall of 2010. The program this year features three farms: Family Garden, Frog Song Organics, and Siembra Farm. In a CSA program, local consumers become part of a CSA by paying for a membership upfront at the beginning of a growing season. In return, the farm provides the member with fresh, local fruits, vegetables and other farm products each week.
"Becoming a Community Supported Agriculture member is an intentional step you can take to create a real alternative to industrial and conventional food production," said Cody Gusto, CSA coordinator for Frog Song Organics.
"This investment provides immediate, tangible benefits to both community members and farmers. For small-scale, local farmers, CSA programs reduce financial risk by having the costs of production paid for prior to the start of a growing season." Overall, this means less debt for farmers and an opportunity to focus on growing high quality food, invest in seed/equipment, and hire from the local community.
Memberships provide a seasonal eating experience and an opportunity to enjoy diverse foods at the peak of their flavor and nutrition, Gusto said. The program is also an opportunity to reduce your carbon footprint since food is distributed within a municipal or regional circle, not shipped from across the country or internationally, which is fossil fuel intensive.
CSAs are also an avenue for increased food security, to save money and take control of your health by cooking more meals at home, Gusto said.  Members have a chance to get to know their local farmer, and are able to visit the farm. At Frog Song Organics, members receive at least seven different produce items each week that rotate on a weekly basis throughout the course of a season.
In the upcoming fall season items will include chestnuts, persimmons, kale, lettuce, sweet potatoes, radishes, turnips, cabbage, arugula and broccoli. Frog Song Organics grows over 80 different types of produce, and CSA members will get to taste almost all of them throughout the course of a year, Gusto said. "Coordinating our CSA program this past year has been an excellent opportunity to interface with and learn from the member communities we serve in Gainesville, St. Augustine and Orlando."
Supporting local farms is a great way to improve community food security and the local economy. Alachua County has several CSA farms that all feature fundamental commitments to sustainability, nutrition, affordability and workplace ethics. Supporting these small-scale, family-owned businesses through CSA memberships creates ripple effects, helping to spur sustainable, directive growth, provide jobs in the community and allow farms the exposure to fill even more Alachua county residents' kitchens with real, wholesome foods.